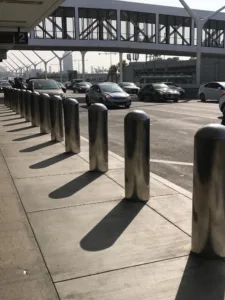 Tomahawk Silver Bollards installed in Los Angeles International Airport


GSX 2023 Attendees Get Exclusive Look at Barrier1's High-Security Bollards for Mainstream Applications
Featured Products Field Proven to Protect People, Property, and Assets in New and Emerging Verticals
Dallas, TX (September 11, 2023) – Barrier1 Systems, the industry leader in perimeter-hardening physical security barriers, is showcasing its lineup of high-security bollards at GSX 2023, September 11-13 in Dallas, TX. Barrier1 invites GSX attendees to visit booth #3961 to experience firsthand its innovative security bollard offerings, each tailored to meet the dynamic needs of modern society.
"No longer relegated to maximum security or government operations, our high-security bollards are proving that vehicle barrier solutions are as critical to physical security as access control or video surveillance," said Mark Borto, CEO, Barrier1. "As a result, we are now seeing our bollards deployed in a number of new verticals for more mainstream applications relating to pedestrian safety, theft prevention, traffic management, and public event protection."
As a pioneer in vehicle barrier systems, Barrier1 continues to push boundaries, offering retractable and fixed bollard solutions for new and existing environments. This includes store fronts, safe cities, data centers, roadways, and more.
Barrier1 provides bollards that are crash tested and rated to ASTM F3016 S10/P1 all the way up to ASTM F2656 M50/P1, providing coverage for vehicle impacts ranging from a 5,000-pound pickup truck travelling at 10mph up to and including a 15,000-pound medium duty truck travelling at 50mph. Bollards can be further customized with  thermoplastic covers in various colors and the addition of retroreflective striping for extra safety and visibility.
Visitors to the Barrier1 booth will have the opportunity to explore and learn about the advanced features and capabilities of the company's high security bollards, designed to provide robust protection against vehicular threats. Featured bollards on display include Nautilus M30 Retractable Bollard, Avenger M50 Surface Set Drop Arm Barrier, Spartacus Retractable Bollard, Tomcat S10 and S30 Storefront Bollards.
For more information about Barrier1's product offerings, please visit www.barrier1.com or visit us at GSX 2023 booth #3961.